Firmly positioned as a pioneer in the shot blasting industry, Tochu Thailand Co., Ltd. is the most experienced company within Thailand and South East Asia. Having placed a strong emphasis on developing our products for over 40 years, we are now a technology leader in our field. This has resulted in the improvement of various critical aspects of the machines, such as increasing the efficiency of blast wheels and work piece handling systems.
The Tochu shot blasting machine is an inexpensive, highly efficient piece of technology that provides excellent performance and reliability. Our equipment gives a superb surface finish to even the most delicate or complicated parts. The low maintenance cost is yet another major benefit enabling our customers to minimize their production costs. Due to the continued development of our shot blasting machines we have surpassed the International Standards for efficiency and cost-effectiveness. This is reflected by our ever increasing number of satisfied customers around the world.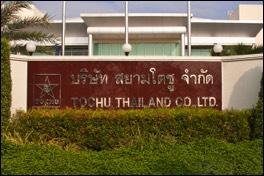 To meet our customer's specific requirements the engineering team of Tochu Thailand Co., Ltd. has developed various standard shot blasting machine models. As a reliable surface-treatment solution these machines are widely accepted within our growing customer base.
Our highly skilled and dedicated service team offers maintenance and trouble shooting services throughout the region, in addition to general training courses which ensure the most efficient operation of the machines.
As the longest established manufacturer of shot blasting machines in Thailand, Tochu Thailand Co., Ltd. is going from strength to strength. The management operates the business on the principles of individualism, trust and cooperation – a philosophy that has brought pride to each and every member of our workforce.
To achieve our common goals, the company's management strongly believes in the implementation of the following principle guidelines:

To operate the daily business in such a way as to ensure that our customers technical needs are fulfilled, prices are competitive and delivery times are as short as possible
To build on our existing customer relationship by providing industry leading after-sales services
To continue development of human resources through training, increasing capabilities and efficiency
To develop and improve products and services by creating technology that is environmentally friendly and safe for the end-user
To continuously develop, monitor and improve the work place in terms of environmental protection, production processes, work safety and staff health
Copyright © John Smith, All Rights Reserved.