Suitable for the efficient blasting of large workpiece areas and when a high production output is required.
The exclusively metallic abrasive media is thrown by the centrifugal force of the rotating blast wheel in a controlled manner onto the workpieces to achieve the desired cleaning results.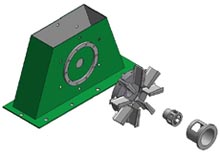 Copyright © John Smith, All Rights Reserved.